Rev. Edward
L. Randolph, Jr.
Rev. Edward L. Randolph, Jr. is a native of Richmond, Virginia. He accepted Christ as his personal savior at an early age while attending the 31st Street Missionary Baptist Church in Richmond. He graduated with honors from John F. Kennedy High School in Richmond in 1979. He received a full baseball scholarship to attend Shaw University in Raleigh, NC, where he graduated in 1983 with a B.S. degree in Business Management.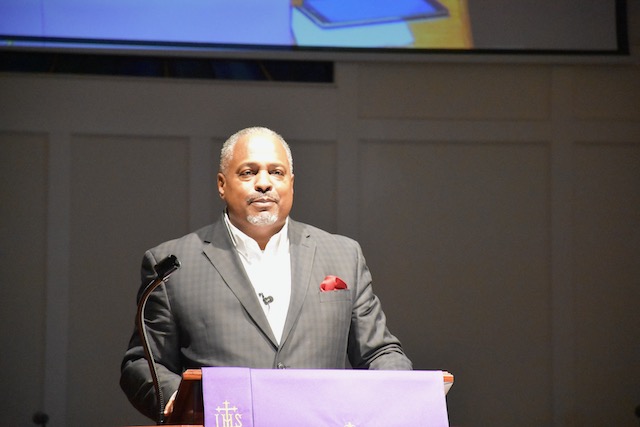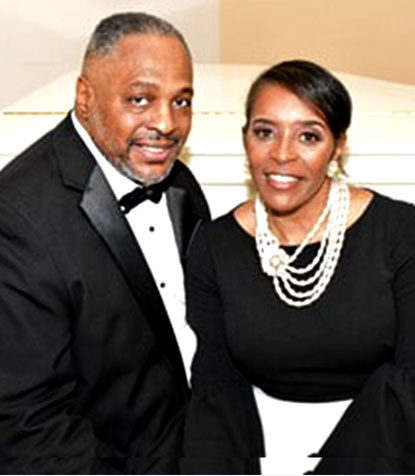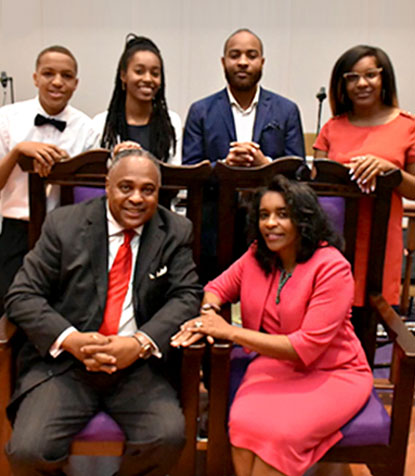 Before entering the gospel ministry, he was ordained as a deacon at the Mt. Olive Baptist Church in Centreville, VA in 1996. Rev. Randolph submitted himself to the call of God on his life and was licensed to preach the gospel of Jesus Christ in August 1998 at the Cole Street Missionary Baptist Church in Marietta, GA. He has served in numerous capacities in the service of the Lord including Sunday School, Men's Ministry Leader, Bible Study Teacher, Male Chorus, Youth Ministry, Children's Ministry, Director of Vacation Bible School and Director of Christian Education.
He was ordained to evangelism in March 2001 by the New Weeping Mary Missionary Baptist Church in Chesapeake, VA where Rev. John C. Smith was his pastor. Rev. Randolph served at New Weeping Mary as an associate minister from 1999 to 2001. In October of 2001, Rev. Randolph was called to pastor the Mt. Lebanon Baptist Church in Norfolk, VA and was installed in January 2002. In December 2004 as a result of job relocation, Rev. Randolph and his family moved to Metro Atlanta and joined Union Missionary Baptist Church. He served UMBC as an Associate Minister beginning in 2004, under the pastorate of Rev. C' Andre Grier for over 10 years. He also served as the Interim Pastor of UMBC from October 2014 until March 2015. In March the church voted to extend the call to him to serve as the 11th pastor of UMBC since 1894.
The Lord has richly blessed Pastor Randolph and his family. He received his Master of Divinity degree from the Samuel Dewitt Proctor School of Theology at Virginia Union University in 2005. His greatest joy is being married to his college sweetheart, Adrienne for 36 years. Their joy has been made complete sharing as the proud parents of Danielle, Tre, Alexis and Jaylen. ​
More than all the above, he loves the Lord; he loves people and has been born again!
Associate Ministers
Rev. Barbara Summerville
Rev. Valeria Showell
Rev. Wendy Torres
Rev. Tina Quinn
Minister Jimmy Smith
Minister Cathy Woodall
Minister Patricia Bryant
Deacon & Deaconess
Deacon Chairman – Deacon Don Anderson
Deaconess Chairwoman– Deaconess Vickie McCoy
| | |
| --- | --- |
| Deacon Robert & Deaconess Sharon Scott Sr. | Tribe of Reuben (January) |
| Deacon Morris & Deaconess Eunice Threadcraft | Tribe of Simeon (February) |
| Deacon Leo Morton | Tribe of Levi (March) |
| Deacon Dwight & Deaconess Vickie McCoy | Tribe of Judah (April) |
| Deacon Robert & Deaconess Lisa Philips Sr. | Tribe of Issachar (May) |
| Deacon Dan & Deaconess Mary Halback Sr. | Tribe of Zebulon (June) |
| Deacon Jason & Debra Lary Sr. | Tribe of Zebulon (June) |
| Deacon Marcus Anderson | Tribe of Gad (July) |
| Deacon Mitchell & Deaconess Liz Moran Sr. | Tribe of Gad (July) |
| Deacon Donald & Deaconess Carolyn Anderson | Tribe of Asher (August) |
| Deacon Ronald & Deaconess Beverly Fallen Sr. | Tribe of Joseph (September) |
| Deacon Reginald & Deaconess Angel Veasley | Tribe of Benjamin (October) |
| Deacon James Fluellen | Tribe of Dan (November) |
| Deacon Horace & Deaconess Janie Weaver | Tribe of Dan (November) |
| Deacon Wesley & Shirley Culpepper | Tribe of Nephatali (December) |
| Deacon Harvey Scales | |
| Deaconess Annie Woodall | |
| Deaconess Christine Scott | |
Our Support Staff
Church Clerk – Sis. Janice Hendrix
Executive Assistant to the Pastor – Sis. Sade Shumake
Chairman of the Board of Directors – Deacon Ronald Fallen
Chairman of the Trustee Ministry – Deacon Reginald Veasley
Chairman of the Finance Ministry – Deacon Wesley Culpepper